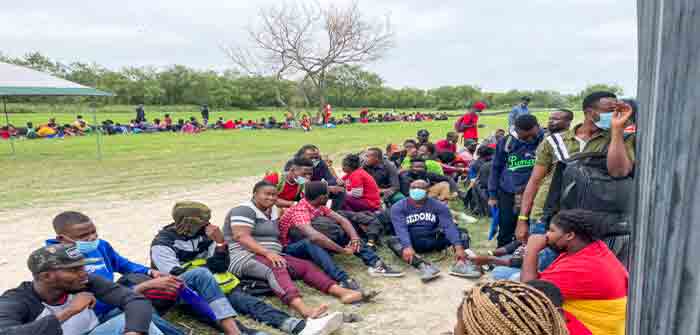 by Katelyn Cavalle at The Daily Mail
Border Patrol Chief Raul Ortiz is warning that in the next few days, CBP will have encountered 1 million migrants from when Fiscal Year 2022 started in October
So far in FY2022, 838,685 migrants were encounters by CBP – and when figures are released for March that number will climb to at least 1 million
It comes as the administration plans to give COVID-19 vaccines to migrants taken into custody in the U.S. 
Estimates show that around 170,000 migrants are waiting on the Mexican side of the southern border to cross into the U.S. once Title 42 ends
The provision allowed for immediate expulsion without hearing asylum claims in the midst of the pandemic 
In preparation for this surge, DHS is prepared to initially provide up to 2,700 vaccines per day to migrants at their facilities
They plan to increase that to 6,000 daily by the end of May
The U.S. will see 1 million migrant encounters in the first half of Fiscal Year 2022, according to Customs and Border Protection (CBP), as the administration plans to start administering 
coronavirus
 vaccines to those in custody as it weighs ending Title 42 as early as next month.
This figure just accounts for migrants encountered, meaning there could be thousands of other 'gotaways' who evaded CBP when illegally crossing into the U.S.
Border Patrol Chief Raul Ortiz told Fox News that in the next few days, CBP will have encountered 1 million migrants from when the federal fiscal year started in October 2022.
The Biden administration said this month that it is considering ending the Trump-era Title 42, which allows for the instant expulsion of migrants arriving in the U.S. during a public health emergency. The policy has extended through Biden's presidency, and has even been defended in court as a way to quell the spread of COVID-19 and the migration crisis.
Immigration advocacy groups have been calling for an end to the policy, claiming it is no longer needed as pandemic restrictions ease and case and death rates continue to decline.
When Title 42 does eventually end, reports claim that there are somewhere around 170,000 migrants waiting on the Mexican side of the border and prepared to immediately head towards the U.S. to claim asylum…
Continue Reading