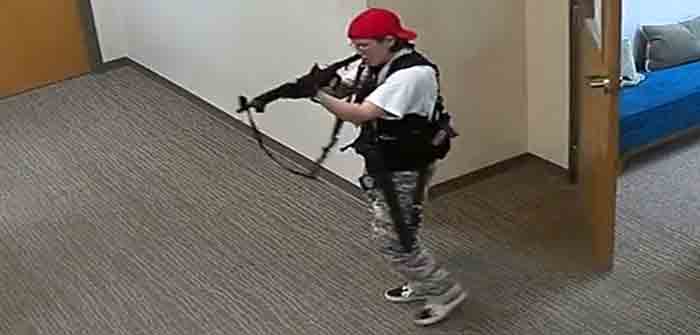 by ZeroHedge News Staff at ZeroHedge
The Metropolitan Nashville Police Department (MNPD) said Monday that the three images included with the alleged first three pages of the Christian Covenant School shooter's manifesto are not "crime scene images," the Daily Caller reports.
Conservative political commentator Steven Crowder posted photographs of three pages which he alleged are part of a manifesto written by the now-deceased Audrey Hale, who killed six people inside the Covenant School with a firearm in Nashville, Tennessee, back in March. An officer killed Hale as she continued opening fire on the second floor of the building.

"The MNPD is in communication with the Metropolitan Department of Law as an investigation, begun this morning, continues into the dissemination of three photographs of writings during an on-line discussion about Covenant School. The photographs are not MNPD crime scene images," the statement reads.

Authorities confirmed they discovered a manifesto written by Hale in which she had allegedly planned the attack for several weeks. Following the shooting, authorities obtained the manifesto, which is under an ongoing investigation by the FBI's Behavioral Analysis Unit (BAU). -Daily Caller
And while the MNPD wouldn't confirm the authenticity of the writings, Fox Nashville did.
BREAKING: Images confirmed AUTHENTIC by @FOXNashville

"NASHVILLE, Tenn. (WZTV) — Social media photos claiming to show some of the writings by The Covenant School shooter Audrey Hale are authentic, FOX 17 News has confirmed through a source."

Source: https://t.co/4sBIDgwqSv https://t.co/vDGAPPh7Oa

— Steven Crowder (@scrowder) November 6, 2023
Meanwhile:
Then there's Reddit…
This suppression is happening all across Reddit.

The admins really do not want people seeing the manifesto, likely because the it's insane anti-white rhetoric is virtually indistinguishable from your average Reddit post. pic.twitter.com/eJKYY1RB8A

— Reddit Lies (@reddit_lies) November 6, 2023
Images of the pages shown by Crowder: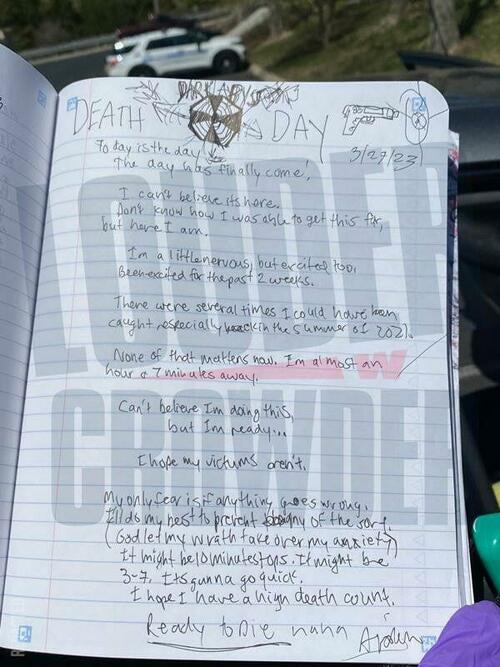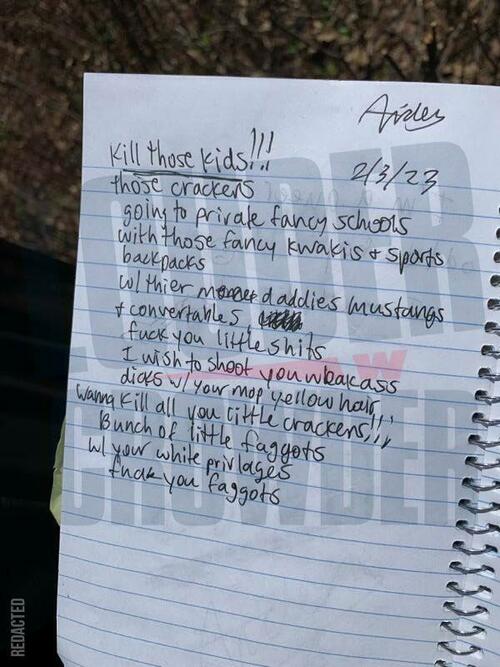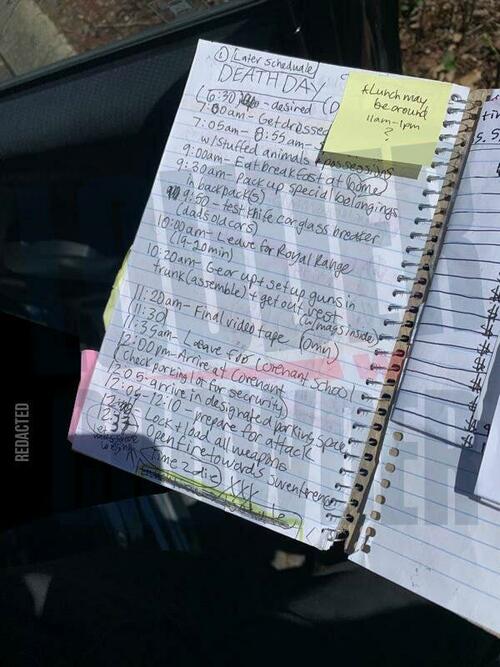 *  *  *
Update (1450ET): The Nashville mayor's office says they're working with Metro legal to get to the bottom of how the transgender school shooter's manifesto was leaked to conservative commentator Stephen Crowder (scroll down to watch)…
Continue Reading