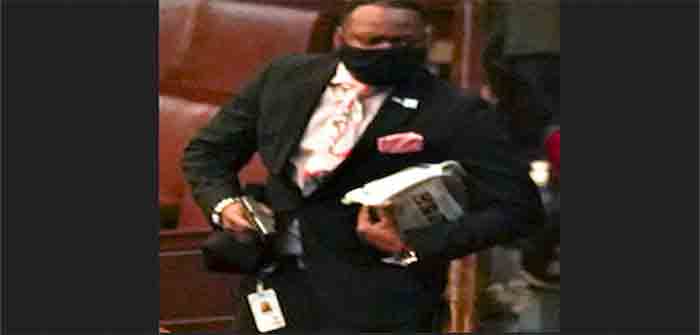 by Paul Sperry at RealClear Investigations
Most police departments — including Washington, D.C.'s Metropolitan Police — are required to release an officer's name within days of a fatal shooting. Not the U.S. Capitol Police, which is controlled by Congress and answers only to Congress. It can keep the public in the dark about the identity and investigation of an officer involved in a shooting indefinitely.
Which is what happened with the Jan. 6 shooting of Ashli Babbitt, an unarmed protester in the U.S. Capitol riot who was fatally wounded by a plainclothes police lieutenant as she attempted to breach a set of doors inside the building.
For the past six months, as Congress has proposed legislation to reform police departments across the country, the Capitol Police has stiff-armed government watchdogs, journalists and even lawyers for Babbitt, who have sought the identity of the officer and additional details about the shooting. The USCP still refuses to release his name, in stark contrast to recent high-profile police shootings around the nation.
In February, USCP issued a press release promising to "share additional information once the investigation is complete." But Justice Department investigators closed their probe in April, clearing the officer of criminal wrongdoing in Babbitt's death, which the medical examiner ruled a homicide. And last month, the D.C. Police — which shares jurisdiction with the Capitol Police and has led the investigation into Babbitt's shooting — concluded its own internal review of the shooting without making any findings, according to spokeswoman Kristen Metzger.Still, USCP continues "stonewalling the public," according to the head of the police union.
"That's my department's attorneys for you," United States Capitol Police Labor Committee Chairman Gus Papathanasiou told RealClearInvestigations. "There is definitely a transparency issue. The department needs to answer those questions. They are stonewalling the public."
Withholding the name of the officer who fired the fatal shot — the only round fired by anyone during the four-hour siege — has bred speculation on the Internet and led to the mistaken identification of at least one officer. USCP Special Agent David Bailey was wrongly fingered as the shooter on social media and conservative news sites.
After RCI called attention to the false rumor in an email to USCP, followed by a story on the issue, USCP's communications chief officially knocked it down as "misinformation."…
Continue Reading