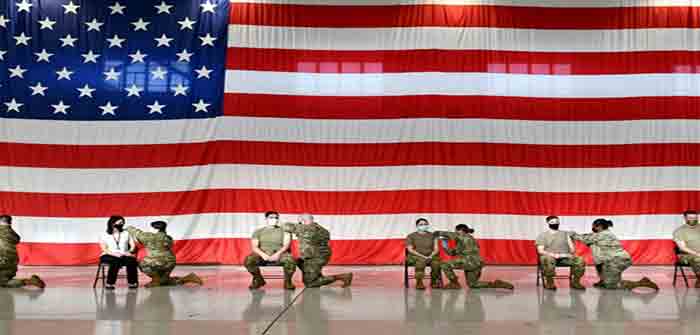 by Kyle Becker at Becker News
Legal experts and advocates on the side of servicemembers punished for refusing the COVID-19 vaccine mandate are pushing for the Department of Defense (DOD) to provide restitution. However, many of those discharged say their careers are irrevocably damaged and may not continue their military service, according to interviews conducted by the Daily Caller News Foundation.
Since Secretary of Defense Lloyd Austin officially rescinded the order that all troops be fully vaccinated against COVID-19 on Jan. 10, lawmakers, attorneys and activists have begun plans to ensure those discharged or awaiting separation have their records expunged and are given the opportunity for reenlistment at their prior level of service. However, many servicemembers who feel DOD violated their freedom of conscience and set them permanently behind in their careers may choose not to reenlist and have lost trust in military leadership, servicemembers and others familiar with their efforts told the DCNF.
"I feel massively betrayed by my chain of command throughout this whole ordeal, and I know that many others feel the same way," Maj. Aaron Elliott, an active duty Air Force reservist who was in the process of obtaining a religious exemption when DOD overturned the mandate, told the DCNF. Commanders "should have been providing protection to service members who were under their care, who they were in charge of, and in many cases that didn't happen," he added.
DOD let go roughly 8,400 servicemembers for refusing the mandate, while thousands more waited in limbo as exemption requests were pending approval.
"From my perspective and interaction,…
Continue Reading