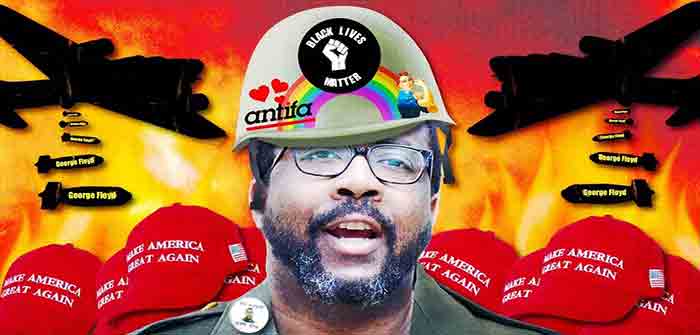 by Revolver News
On February 3, 2021, in the wake of the "deadly events" of 1/6, Biden's new Defense Secretary Lloyd Austin ordered a 60-day stand-down and total purge of the U.S. military's rampant, undefined "extremism" problem. Though the details of this purge were always kept vague and framed in apolitical terms, it was immediately obvious the target would be MAGA — with the buzzword "extremism" tagged onto various proxies for Trump supporters, conservatives, and opponents of globalism of all stripes.
We now know the hatchet man the Pentagon has selected to carry out this MAGA purge of the American defense forces, and the entire operation is worse than you could have ever imagined.
The Biden administration has just put the equivalent of Ibram X. Kendi in charge of vetting the entire U.S. military.
This hatchet man's name is Bishop Garrison, Senior Advisor to the Secretary of Defense for Diversity and Inclusion:
Bishop Garrison says that being a Trump supporter makes you a racist, misogynist, extremist.
This isn't just some random case of Trump Derangement Syndrome on Twitter.
As the new head of the U.S. military's "Countering Extremism" task force, this critical race theory loving, Trump Derangement Syndrome suffering, fake news spreading, 100% partisan hack is the man who will now separate permissible "opinion" from purgeable "extremism" at the Pentagon, which is the nation's largest employer, overseeing 2.9 million personnel.
Just as the Defense Secretary's 60 day stand down to take stock of "extremism" within the military's ranks expired, the Pentagon issued a
formal memo
 on April 9th describing its "Immediate Actions to Counter Extremism." 
This memo establishes the Countering Extremism Working Group ("CEWG") to develop and implement all "Counter Extremism" policies at the Pentagon
.
Bishop Garrison is at the helm.
From the memo:…
Continue Reading