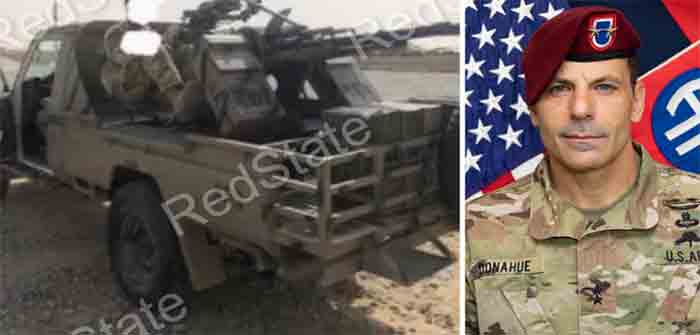 by Jennifer Van Laar at RedState
In what's been described as a photo that "may become an enduring memory of the end of the U.S. war in Afghanistan," Maj. Gen. Christopher Donahue walks toward a C-17 transport plane at the airport in Kabul, Afghanistan, the last US military member who had boots on Afghan soil.
Maj. Gen. Christopher Donahue, commander of our All American Division, boards a C-17 Globemaster III at the Hamid Karzai International Airport in Kabul, Afghanistan. Maj. Gen. Donahue is the final American #Paratrooper to depart Afghanistan. pic.twitter.com/COn3ibnx3C

— All American Division (@82ndABNDiv) August 31, 2021
In a number of articles penned in the following days, Donahue is characterized as "uniquely qualified" for that moment in time and generally depicted as a humble, understated leader of his division.
Unfortunately, everything isn't quite as it may seem. During the last hours of the evacuation, according to troops under his command and as documented by photographs and witness statements, Donahue ordered all of the passengers aboard a C-17 transport plane to disembark so he could have a souvenir loaded onto the plane. That souvenir, or "war trophy," was an inoperable Taliban-owned Toyota Hilux with a fully operational Russian ZU-23 anti-aircraft autocannon mounted in the bed. Once the Hilux was loaded passengers were allowed back on the plane, but, of course, there wasn't room for all of them. According to troops on the scene, at least 50 people and perhaps as many as 100 people were left at Kabul to make room for the Hilux…
Continue Reading