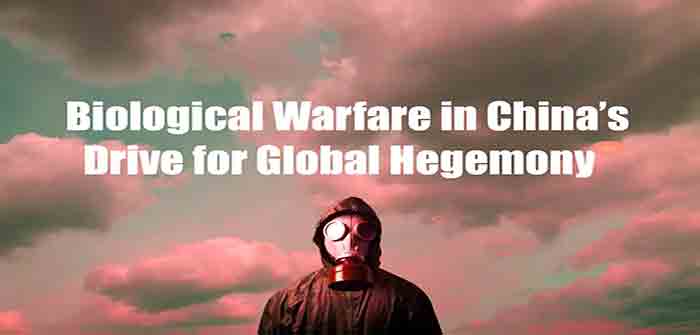 by Robert W Malone MD, MS at Who is Robert Malone
In July 2021, Congressman Mo Brooks (R-AL) issued a Press Release that, to date, stands out for its courage and honesty. Rep. Brooks wrote about a meeting he'd attended with Dr. Li-Meng Yan, a Chinese medical doctor, Ph.D. virologist, and whistleblower, who fled to the U.S. from Hong Kong in 2020 after being threatened with being "disappeared" for speaking out about the origins of the SARS-CoV-2. Her mission since then has been to warn America and the world about the Chinese Communist Party (CCP)'s offensive Biological Warfare (BW) program.
That program, a seamlessly linked effort directed by the CCP in collaboration with the People's Liberation Army (PLA), dates back to Mao's 1949 takeover of China. In the wake of WW II, Japan's horrifying use of BW against the Chinese people became known to the world. The Imperial Japanese Army killed hundreds of thousands of Chinese during the war under the auspices of Unit 731, that had been established in Manchuria in 1932 under the leadership of the notorious Gen. Shiro Ishii, chief medical officer of the Japanese army. Japanese occupiers performed hideous experiments on captive Chinese, including infecting them with cholera, gonorrhea, and plague. Japan's BW program was also weaponized. Cholera was used to infect water wells and fleas infected with bubonic plague were dropped in aerial bombs over Chinese towns and villages.
What may be less well-known is that Mao's Communist regime did not eliminate Japan's BW program in China after the Japanese defeat in WW II, but instead took it over and developed it further. Despite the fact that the People's Republic of China (PRC) acceded to the Biological Weapons Convention (BWC) in 1984, the PRC's so-called "civilian-military fusion" policy directs its offensive BW program to this day. "Civilian-military fusion" means that every medical or biological lab, research center, or even university academic program dedicated to basic biology, epidemiology, or virology is obligated to operate under CCP-PLA orders and to share any and all research with regime officials.
Writing in her 2021 book, What Really Happened in Wuhan,…
Continue Reading