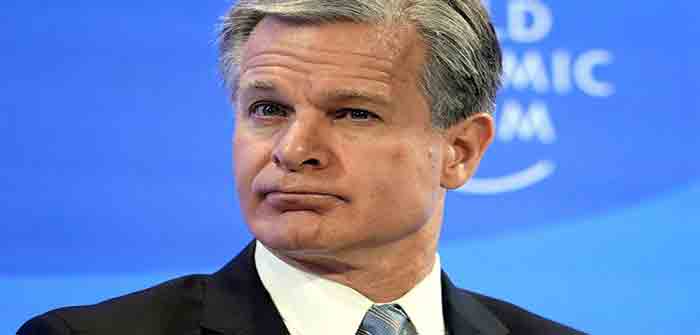 by Steve Friend at Uncover DC
This week FBI Director Christopher Wray attended the World Economic Forum in Davos, Switzerland. This decision, as well as his activities during the summit, are fertile ground for broad inquiry and criticism. Why is the head of a domestic law enforcement agency attending a gathering of global elites seeking a world without privacy? Did Wray use a taxpayer-funded jet to travel? If not, was the Director lying during a November 2022 Senate Homeland Security Committee hearing when he responded to a round of questions from Senator Josh Hawley, "I am required, not just permitted, required even for personal travel to use the FBI plane?" Why did Wray hold a private meeting with a group of global bank and exchange chiefs instead of relaying his cybersecurity and resilience expertise with the public?
Welcome to 2030. I own nothing, have no privacy, and life has never been better @IdaAuken https://t.co/6BKymvbKB5 pic.twitter.com/YJjAkw8skS

— World Economic Forum (@wef) December 12, 2016
This is just a smattering of questions I will leave for others to address. As an experienced investigator and civil libertarian, I found Wray's comments during a panel addressing national security and cybersecurity especially alarming.
"The sophistication of the private sector is improving, and particularly important, the level of collaboration between the private sector and the government. Especially the FBI has, I think, made significant strides."
Points for honesty…
Continue Reading