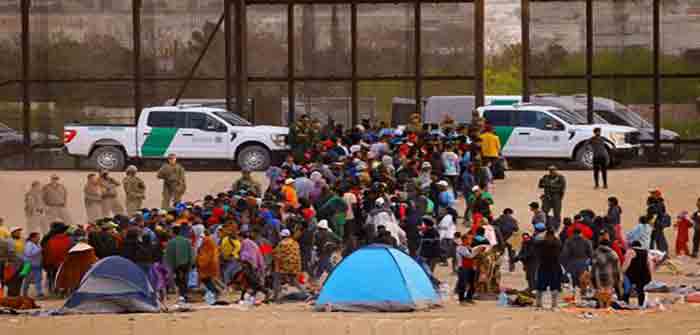 by ZeroHedge News Staff at ZeroHedge
According to 'internal documents' seen only by CBS News (so who knows), the Biden administration is bringing back a Trump-era rule in a "major pivot" to help facilitate swift deportations of migrants who enter the United States illegally after the Title 42 pandemic-era emergency policy sunsets on Thursday.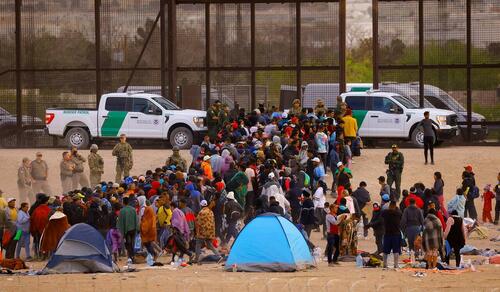 Under the new rule, asylum seekers who can't prove they previously requested protection in a third country, such as Mexico, will be ineligible.
"More than 150,000 migrants are waiting in northern Mexican states to cross into the United States," reports CNN — and "hundreds of thousands more from Central America are on their way as Title 42 expires on Thursday." pic.twitter.com/PJMqjjY2kR

— RNC Research (@RNCResearch) May 9, 2023
According to the report, hundreds of US immigration officers have been trained on how to enforce the new restriction, which is expected to be challenged in federal court.
That said, migrants who use a mobile app-powered system won't be barred under the policy – nor will the new rule apply to unaccompanied minors that the Obama-Biden administration built cages to toss them in over a decade ago.
Of course, CBS News reminds us that "If upheld, the Biden administration's rule will cement a growing bipartisan rejection of the asylum laws that Congress enacted in 1980 to conform with international treaties designed to prevent nations from turning away refugees to places where they could be persecuted, as the U.S. did to some Jews fleeing Nazi Germany."…
Continue Reading