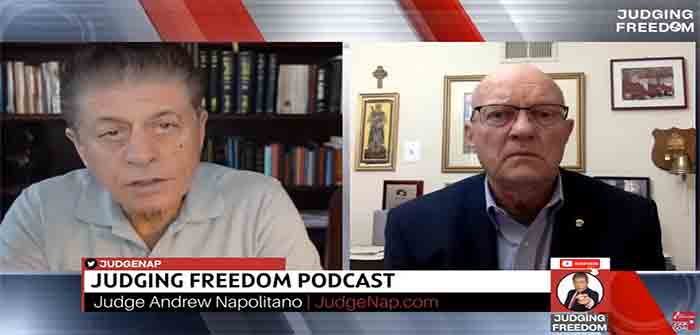 Uploaded by Judge Napolitano – Judging Freedom
Col (ret.) Lawrence Wilkerson joined Judge Napolitano to discuss foreign policy, national security, endless U.S. wars and a few of those neocons who have been in elected or appointed federal positions since then Secretary of State Gen Colin Powell testified before the UN Security Council on bioweapons held in Iraq leading to war in 2003. Wilkerson holds nothing back as to what he witnessed firsthand over more than a decade serving the General. Lots of detail and some interesting surprises.
As Napolitano tee'd up the interview:
Brace yourselves for a riveting journey into the shadowy corners of US foreign policy, as we pry open the secrets with our special guest, Colonel Lawrence Wilkerson. Ever wondered about the involvement of high-ranking government officials in war crimes? Buckle up as we untangle the complex web of George W Bush, Dick Cheney, and Donald Rumsfeld's alleged involvement in torture during the Bush Administration.

Our probing discussion takes us deeper into the labyrinth of US strategic policies in the Middle East, shedding light on the convoluted relationship with Qatar and the questionable pretexts for the Iraq war. We also scrutinize CIA's influence in these decisions and the long-lasting repercussions of the Iraq conflict. You might be shocked to learn about the level of deception that led to one of the most contentious wars in history.

As we navigate further into this intricate geopolitical landscape, we confront the daunting Neocon influence in Ukraine, its impact on US strategic interests, and the potential roles of contractors like Raytheon and Lockheed Martin. With Colonel Wilkerson's insightful commentary, we also get a glimpse into the possible changes under President Zelensky's reign. And, in a thought-provoking conclusion, we delve into the complexities of the Israel-Hamas conflict, offering a distinctive perspective on one of the world's most volatile regions. Get ready for a mind-blowing, truth-revealing discussion that's bound to leave you questioning everything you thought you knew about these global hotspots.

ABOUT: Col. (ret.) Lawrence Wilkerson's last positions in government were as Secretary of State Colin Powell's Chief of Staff (2002-05), Associate Director of the State Department's Policy Planning staff under the directorship of Ambassador Richard N. Haass, and member of that staff responsible for East Asia and the Pacific, political-military and legislative affairs (2001-02).

Before serving at the State Department, Wilkerson served 31 years in the U.S. Army. During that time, he was a member of the faculty of the U.S. Naval War College (1987 to 1989), Special Assistant to General Powell when he was Chairman of the Joint Chiefs of Staff (1989-93), and Director and Deputy Director of the U.S. Marine Corps War College at Quantico, Virginia (1993-97). Wilkerson retired in 1997 and began work as an advisor to General Powell. He has also taught national security affairs at the George Washington University and is currently working on a book about the first George W. Bush administration.
WATCH:
Continue Reading