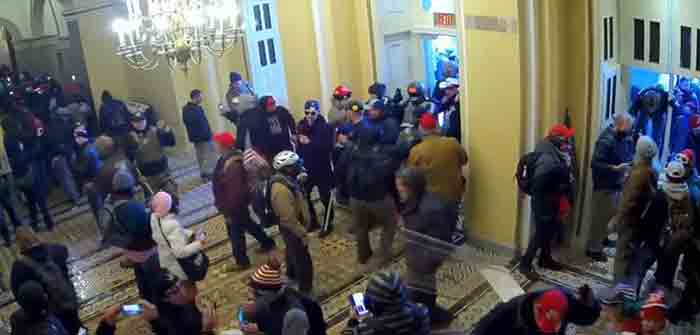 by Joseph M Hanneman at The Epoch Times
The man whose posting on social media warned authorities that agent provocateurs from Antifa and Black Lives Matter would be at the U.S. Capitol dressed as Trump supporters on Jan. 6, 2021, is a self-described government informant tied to former deputy attorney general Rod Rosenstein.
Rosenstein warned about a "soft coup" against then-President Donald Trump in fall 2020.
On Jan. 4, 2021, an account under the name @JohnHereToHelp posted on Twitter that Antifa and BLM agitators were being bussed from Baltimore to Washington to cause trouble at the Capitol on the day of Trump's speech at the Ellipse.
"Pantifa/BLM, Balt./DC branches, are already bussing people in to disturb Jan. 6," the post read. "Orders [were] given to dress like 'MAGA,' blend in [and] cause trouble, especially around cameras. At night, arson has been ordered. All to be blamed on Trump supporters attending. Please be careful."
The post caught the attention of an assistant commander in the Intelligence and Counterterrorism Branch of the United States Park Police, who forwarded it to officials at the U.S. Capitol Police, the D.C. Metropolitan Police Department, the Department of Homeland Security, and other agencies.
The now-suspended Twitter account belonged to Ryan Dark White, also known as Jon McGreevey.
McGreevey has described himself in court papers and interviews as a former Department of Justice informant who supplied information on corruption in the federal government, law enforcement, and the Trump administration.
He once used the name Ryan White as a cover but now identifies as McGreevey. He is running for federal office in Maryland.
JohnHereToHelp's original post was shared more than 6,000 times before it hit the radar of the Park Police.
At the time, McGreevey had more than 120,000 followers on Twitter, according to an archived version of his page stored at the Wayback Machine.
Twitter later suspended his account…
Continue Reading