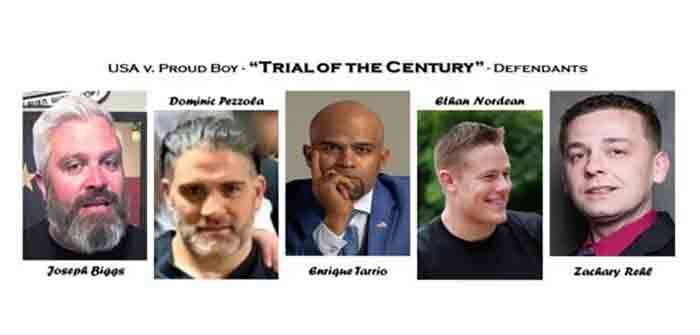 by Jim Hoft at The Gateway Pundit
The government's fabricated case against the Proud Boys was suspended until next week after the defense attorneys were accidentally given information from DOJ lawyers that shows the US government was deleting evidence, hiding documents and spying on the prisoners while they were speaking with their attorneys.
Of course, all of those actions are illegal.
On Friday morning J6 political prisoner Dominic Pezzola called The Gateway Pundit to give us an update on the case. The case was postponed until next week so that the government can plot how to handle the fact that they were caught spying and deleting evidence.
Dominic was arrested on January 15, 2021, and appeared in court that same day. He pleaded not guilty to 1-11 counts against him on February 9th and then again on May 29th. Dominic Pezzola remains detained in the DC Gulag, a political prisoner of the left. He has not been given his Constitutional right of a speedy trial. The DOJ does not believe in the US Constitution.
Proud Boys member Dominic Pezzola has been held in solitary confinement for 90% of his time in prison after he broke a window at the US Capitol. Dominic has been held at in prison for 27 months now. He was not given his discovery for days after the trial started.
Pezzola faces possibly 20 years in prison for breking a window and several manufactured charges by Merrick Garland's DOJ.
Dominic told The Gateway Pundit on Friday exactly what was found in the secret documents the government leaked to the Proud Boys attorneys…
Continue Reading