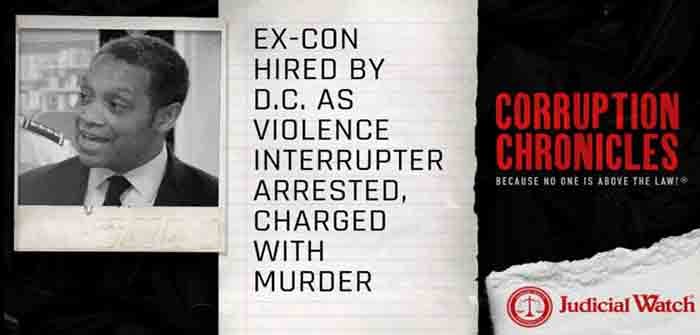 In a curious twist, a "reformed" criminal hired by the District of Columbia's chief legal officer to help curb violence has been arrested and charged with murder. The case involves a taxpayer-funded public safety program known as Cure the Streets launched by D.C. Attorney General Karl Racine to reduce gun violence by treating it as a disease that can be interrupted and stopped from spreading. Cure the Streets typically hires men and women with criminal histories as violence interrupters because they know first-hand about the challenges that residents of crime-infested communities live with. Racine, who was reelected to a second term in 2018, says the transformed criminals hired by his program perform community-driven public safety work that can avoid using police.
Here is how they carry out the task, according to Racine's office: By interrupting potentially violent conflicts because they have relationships and influence within targeted neighborhoods. Violence interrupters "engage with the community to learn about brewing conflicts and resolve them peaceably before they erupt in violence," the program's website states. Violence interrupters also identify and treat individuals at high risk for involvement with violence by meeting with them and implementing individualized risk reduction plans. "They also help connect participants with needed services, such as housing, counseling and employment assistance, and develop action plans for a positive future." Finally, the D.C. Attorney General claims violence interrupters mobilize communities to change norms by engaging residents, local businesses, community leaders and faith leaders to work with high-risk individuals to reduce violence. "CTS works with these partners to organize forums and public events where residents can gather and interact safely without fear of conflict and violence," the D.C. government website claims. It is not clear what impact Cure the Streets is having on violent crime in the District, but the Metropolitan Police Department reports that homicides are up 20% from last year.
The program operates in notoriously high-crime sections throughout D.C., which are broken down by wards. They include Eckington/Truxton and Trinidad in Ward 5, Marshall Heights/Benning Heights in Ward 7 and Bellevue, Washington Highlands, and Congress Heights in Ward 8. The Cure the Streets employee recently charged with murder was a supervisor who led a team of six violence interrupters and outreach workers. His name is Cotey Wynn, an ex-con with an extensive rap sheet who served a decade in prison before D.C.'s chief legal officer hired him. Wynn's record includes felony murder, first degree murder, possession with intent to distribute crack cocaine, and distribution of a controlled substance, according to the Metropolitan Police Department. On December 4, the agency's Capital Area Fugitive Task Force arrested the 39-year-old Wynn and charged him with second degree murder while armed. At the time of his arrest Wynn was under the supervision of the Pretrial Services Agency for the District of Columbia, a federal agency that believes preventative detention should only be a last resort for defendants, who should live in the least restrictive conditions while awaiting court.
Police say Wynn fatally shot a 53-year-old man named…
Continue Reading