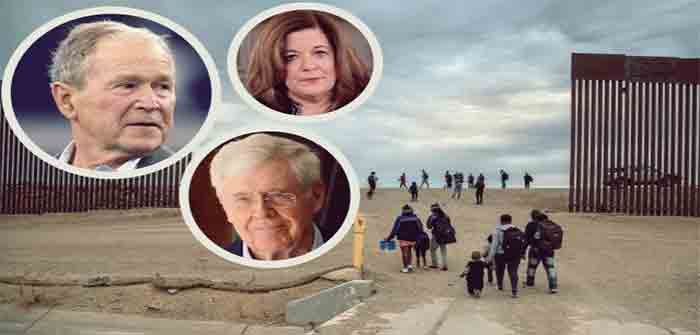 by John Binder at Breitbart News
The groups, along with others, have teamed up to create the Alliance for a New Immigration Consensus that will lobby Biden and members of Congress to pass amnesty for illegal aliens, increase security at the southern border, and increase the ability of businesses to import foreign workers.
"Employers are also struggling to find workers to fill jobs in many industries," the coalition writes in a letter to congressional leaders and Biden. As of January, more than 12 million Americans are jobless and another 3.7 million are underemployed, but all want full-time jobs.
The coalition includes:
AmericanHort
American Hotel & Lodging Association
Americans for Prosperity
Asian American Christian Collaborative
Bethany Christian Services
Bipartisan Policy Center Action
Business Roundtable
Council on National Security and Immigration
Essential Worker Immigration Coalition
The Ethics and Religious Liberty Commission of the Southern Baptist Convention
Evangelical Immigration Table
Gaby Pacheco
George W. Bush Institute
Idaho Dairymen's Association
International Fresh Produce Association
National Association of Evangelicals
National Association of Manufacturers
National Immigration Forum
National Latino Evangelical Coalition
National Retail Federation
Niskanen Center
Presidents' Alliance on Higher Education and Immigration
The Episcopal Church
The LIBRE Initiative
The U.S. Chamber of Commerce
Western Growers
World Relief
Migration and Refugee Services, U.S. Conference of Catholic Bishops
At his State of the Union (SOTU) address, Biden parrotted big business talking points, suggesting that businesses needed to be able to more quickly and easily import foreign workers to take working and middle class American jobs.
Biden also directly touted the Chamber's support for amnesty and expanded legal immigration levels.
The coalition has been formed as American voters increasingly share that they want legal immigration levels reduced, not increased.
The latest Gallup poll found that just nine percent of Americans said they want increased immigration, while 35 percent said they want less immigration. Likewise, nearly 7-in-10 Republican voters and 32 percent of swing voters said they want to cut overall immigration…
Continue Reading