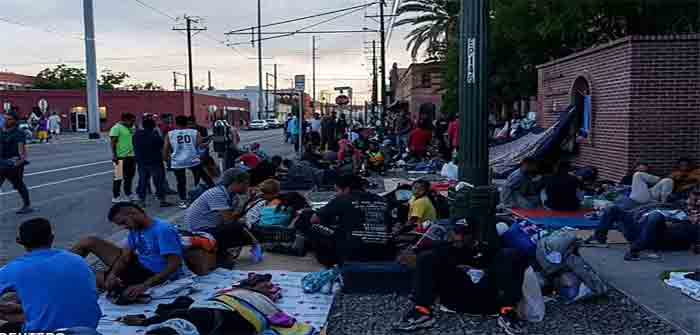 by James Franey at Daily Mail
Border agents were ordered to transport asylum-seekers away from the frontier
A damning probe said it was to hide 'reality' from visiting VIPs
Thousands of migrants plan to sneak into the U.S. once emergency Covid laws expire 
U.S. officials bussed away migrants and inflated staffing levels during VIP visits to mask the chaos on the southwest border, a bombshell report has claimed.
The revelations came in a damning probe into the Department of Homeland Security's (DHS) handling of the migration crisis.
They also follow repeated calls from Republicans to renew a Trump-era Covid diktat that allows the U.S. to boot out illegals more easily.
The report by a top government accountability watchdog grilled more than 9,000 border officials who painted a bleak picture of how authorities are coping.
The bombshell probe said U.S. border agencies are unable to cope with the surge in migrants ahead of the scrapping of Title 42 on May 11
The report found that morale is low amongst U.S. border agents who are struggling to cope with the huge rise in numbers.
The government's top oversight watchdog warned that many staff will quit or retire unless changes are made soon
They told the Office of the Inspector General (OIG) said that a VIP visit to frontier posts would see bosses orchestrate a cover-up.
Top management 'would transport migrants out of the facility before a visit and return them after the visit ended', the report said.
One source said…
Continue Reading