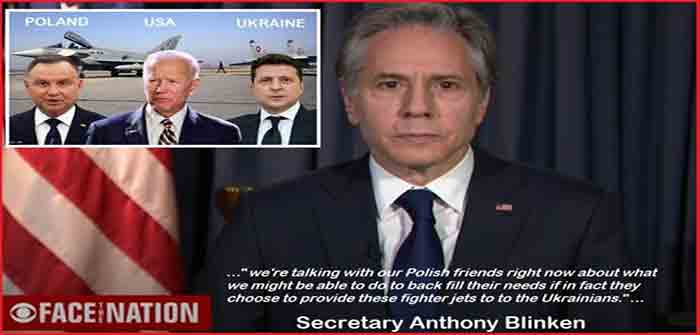 by Sundance at The Conservative Treehouse
Ha-Ha-Ha… Oh, the Biden administration is not happy with Poland. Not happy at all.
Earlier this afternoon, Poland called Secretary of State Anthony Blinken's bluff, over the U.S. claims that Poland was going to send fighter jets into Ukraine.  This followed Sunday's announcement where Poland said the U.S. State Dept was lying.
Earlier today, Poland said they would give the U.S. the planes if Blinken and Biden wanted to start World War III, but Poland wasn't going to help the U.S. create a war with Russia.  This put the U.S. in a 'put up or shut up' position.  Well, Blinken and Biden just folded, per the Pentagon:
Pentagon – We are now in contact with the Polish government following the statement issued today.  As we have said, the decision about whether to transfer Polish-owned planes to Ukraine is ultimately one for the Polish government.  We will continue consulting with our Allies and partners about our ongoing security assistance to Ukraine, because, in fact, Poland's proposal shows just some of the complexities this issue presents.
The prospect of fighter jets "at the disposal of the Government of the United States of America" departing from a U.S./NATO base in Germany to fly into airspace that is contested with Russia over Ukraine raises serious concerns for the entire NATO alliance.  It is simply not clear to us that there is a substantive rationale for it.  We will continue to consult with Poland and our other NATO allies about this issue and the difficult logistical challenges it presents, but we do not believe Poland's proposal is a tenable one.  (read more)
Well played Team Poland, well played!…
Continue Reading