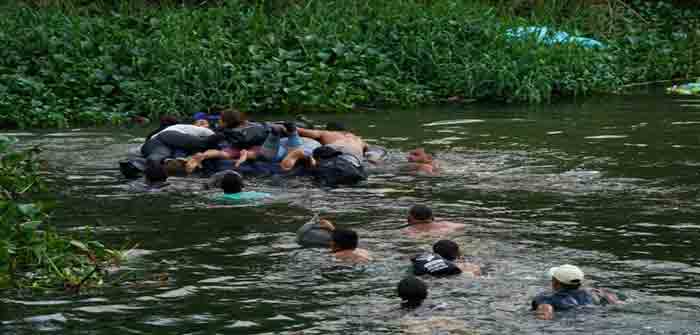 by Natalie Winters at War Room with Steve Bannon
Less than one month before the emergency health authority Title 42 expired, the U.S. State Department awarded Ukraine's Border Patrol with a robust, seven-figure grant.
The grant, which is readily accessible on the federal government's online spending database,  started on April 18th, 2023, and is set to expire on October 16th. The agreement, which has currently allocated $1,011,625 in taxpayer funds, could potentially be increased to a total of $1,980,750 and extended until March of next year.
The State Department awarded the grant to Bizzell Corp, a logistics firm based out of Wyoming, to "manufacture and delivery of dugout shelters for the state border guard service of the Ukraine." Reporting reveals that the firm will supply Ukraine with 100 Field Accommodation Dugouts.
"These portable bunkers, constructed like cargo containers, are designed to be buried underground near the Ukrainian border to provide a small living shelter for soldiers on the front lines.
The dugouts are constructed and retrofitted in Ukraine and come fully stocked with a wood-burning stove, ventilation system, solar energy, bunk beds and storage space," 
explains
 an article announcing the recent grant. 
A LinkedIn 
post from Bizzell Corp celebrated the contract, noting that their Ukrainian counterpart was responsible for "ensuring inviolability of state borders, and the protection of sovereign rights":…
Continue Reading