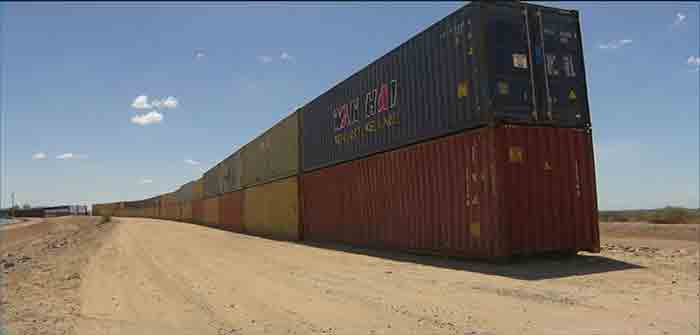 by Robb Crilly at Daily Mail
Republican Governor Doug Ducey has taken things into his own hands in Arizona
The state is building a border wall of double-stacked shipping containers
But the Biden administration says it amounts to trespass on federal land
Ducey has taken legal action to keep the wall, and begun work on a new section
He says 64 double-stacked containers have closed 1,280 feet of open border 
Arizona's Republican governor has begun using shipping containers to fortify a second section of the southern border despite being ordered to take down barriers in another part of the state.
Gov. Doug Ducey is taking legal action, asking a court to allow more than 100 double-stacked containers, topped with razor wire, to stay in place close to Yuma.
The Biden administration has warned him that the action amounts to trespass on federal lands.
The row illustrates how immigration is a potent election issue for Republicans in border states ahead of next week's midterm elections.
Last week, Ducey shared video of the container wall.
'In just four days, we've closed 1,280 feet of open border with 64 double-stacked containers,' he tweeted. 'Where there's a will, there's a way!'
His push began in August during a record surge in people illegally crossing the border as part of an effort to highlight what he says in the inaction of the Biden administration.
Arizona's Governor continues stacking containers to close the border…
Continue Reading