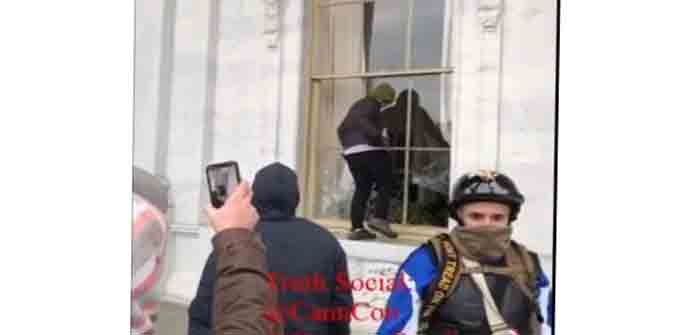 by Brian Lupo at The Gateway Pundit
Yes, there were BLM/ANTIFA activists at the Capitol on January 6th.  This has been documented by The Gateway Pundit and Project Veritas, among others.  There were also Federal agents and/or confidential informants embedded in the crowd, regardless of what the highly partisan and Establishment-filled January 6th Committee wants you to believe.
On Saturday, The Gateway Pundit sat down with Congressional candidate for Arizona's 3rd District, Jeff Zink.  During our interview, he told a story of wildly different treatment between a man named Hunter Ehmke, who vandalized Capitol property, and a man Zink knows never went into the Capitol or vandalized a single inch of the Capitol grounds: his son.
WATCH interview (loading takes a moment):
Hunter Ehmke was caught on camera on January 6th breaking several panes of glass outside the US Capitol.  He was quickly tackled by police, arrested, and let go about 20 minutes later.  He was later arrested at his grandfather's home on January 13th, 2021 and released on a $45,000 bail agreement the next day.   A year later, he pleaded guilty to only one count and was sentenced to four months in prison and ordered to pay $2,821 in fines…
Continue Reading