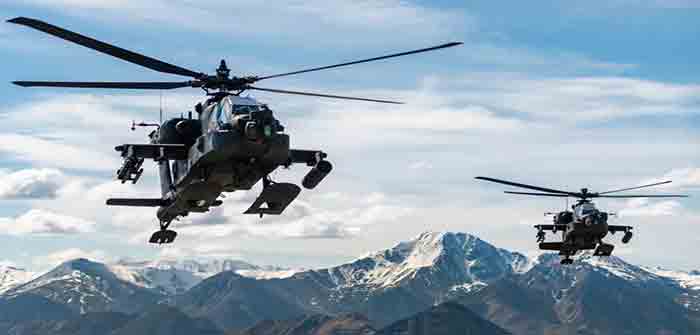 by The Associated Press at Audacy
In this photo released by the U.S. Army, AH-64D Apache Longbow attack helicopters from the 1st Attack Battalion, 25th Aviation Regiment, fly over a mountain range near Fort Wainwright, Alaska, on June 3, 2019. The U.S. Army says two Army helicopters similar to the ones in this picture crashed Thursday, April 27, 2023, near Healy, Alaska, killing three soldiers and injuring a fourth. The helicopters were returning from a training flight to Fort Wainwright, based near Fairbanks.Photo credit Cameron Roxberry/U.S. Army via AP
______
The U.S. Army has grounded aviation units for training after 12 soldiers died within the last month in helicopter crashes in Alaska and Kentucky, the military branch Friday.
The suspension of air operations was effective immediately, with units grounded until they complete the training, said Lt. Col. Terence Kelley, an Army spokesperson. For active-duty units, the training is to take place between May 1 and 5. Army National Guard and Reserve units will have until May 31 to complete the training.
The move grounds all Army aviators, except those participating in critical missions, until they complete the required training," the Army said in a statement.
On Thursday, two Army helicopters collided near Healy, Alaska, killing three soldiers and injuring a fourth. The aircraft from the 1st Attack Battalion, 25th Aviation Regiment at Fort Wainwright, near Fairbanks, were returning from training at the time of the crash, according to the Army. The unit is part of the 11th Airborne Division, which is nicknamed the "Arctic Angels."
Military investigators were making their way to Alaska's interior,…
Continue Reading