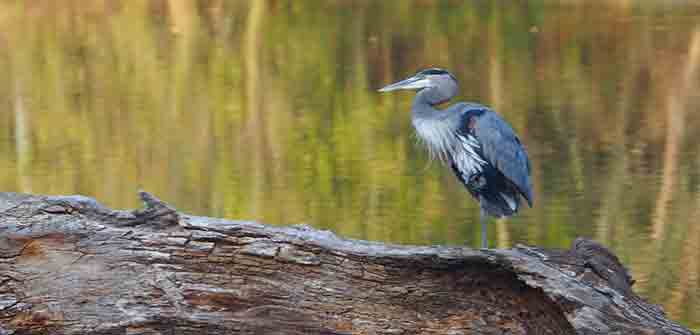 Greetings!
Nearby, this Great Blue Heron has declared a stretch of the James River his home. He's a site to behold. A couple of year's ago he was first  seen atop a fallen weathered limb fishing for his next meal at a neighbor's pond. He's broadened his territory since, where he can now be found atop logs over dams like the featured picture, hunting in creek beds when the river is murky or hunkered down in grasslands patiently waiting for his next meal.
One can't take too many pictures of this gorgeous bird! He's everywhere once you learn how to look for him.
We thought we'd share him with you hoping his beauty might inspire you and yours to get out into Mother Nature over this holiday weekend and take in the sites of some wild lands near you.
That's what we plan to do for this entire week — get outdoors and enjoy the bounty only nature can offer.
Which means, for the first time since 2008, The T-Room is officially taking this week off. Rejuvenating our hopes for a better tomorrow, making a feast for family and friends to enjoy on Turkey Day and getting outside to clear the good old noggin is our goal.
We sincerely hope you too will take a respite from this crazy, maddening world by treating yourself to some self-kindness. You and yours deserve nothing less.
Wishing You a Most Wonderful Thanksgiving Holiday!
Helen at The T-Room