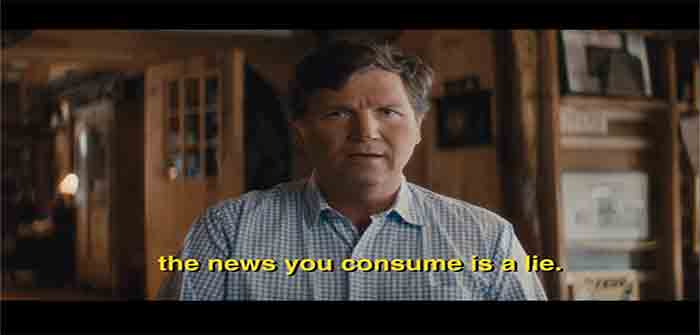 by Tucker Carlson at Twitter
This afternoon Tucker Carlson dropped a tweet announcing he and his former Fox news team were taking their show, tweaked a bit, to Twitter.
WATCH:
We're back. pic.twitter.com/sG5t9gr60O

— Tucker Carlson (@TuckerCarlson) May 9, 2023
All kinds of news stories have been floating around in alternative media suggesting all sorts of differing storylines about his firing, offers made by several news outlets, meeting with Elon Musk, hosting a debate and more. Honestly, one didn't know what was fact from wishful thinking. Thus, we waited for Tucker to tell the public about his next move.
He did.
Shortly thereafter, Axios is reported Tucker's lawyers are suing Fox News for breach of contract:
The details: The letter — from Carlson lawyer Bryan Freedman to Fox officials Viet Dinh and Irena Briganti — said Fox employees, including "Rupert Murdoch himself," broke promises to Carlson "intentionally and with reckless disregard for the truth."

The lawyers accuse Fox executives — which two sources say are Dinh and Murdoch — of making "material representations," or promises, to Carlson that were intentionally broken, constituting fraud.
Notably, the letter alleges Fox broke an agreement with Carlson not to leak his private communications to the media and not to use Carlson's private messages "to take any adverse employment action against him."
Multiple outlets have reported on Carlson's redacted communications from pre-trial discovery documents and have suggested that they led to his ousting.
In essence Fox News's Board of Director's and news Executives were in fact working to hold Tucker to his contract by paying him through to January 2025 resulting in his being silenced.
Think about that. The most trusted and watched name in the news business would be thwarted from covering the 2024 Presidential election, the ever increasing possibility of impeachment hearings of not only Joe Biden but of others who have lied, blatantly, to congress in their sworn testimony before them and the very real and tragic targeting of President Trump not to mention Robert F Kennedy Jr's very real challenge to Biden's puppetmasters.
Can you imagine his being silent throughout this most pivotal time in America's history?
Well, it looks like David is taking on Goliath.
The good news is is Tucker is fighting back! Although Fox wanted to hold him to his contract, thereby silencing his voice, it sure looks like Tucker isn't having any of that.
Here's to hoping Tucker succeeds in his fight and here's to hoping that $25 million carrot they were foolishly dangling in front of him only doubles or even triples when he's done with suing Fox News.