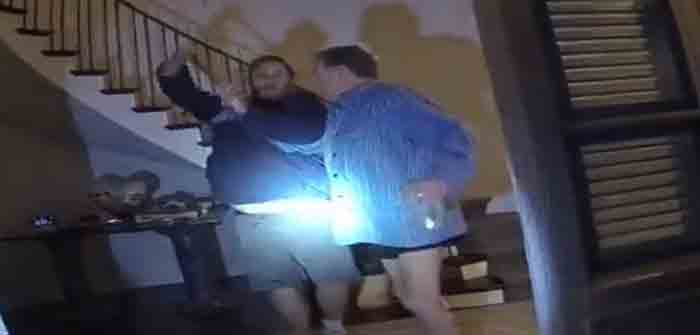 by Helen Tansey at The T-Room
After watching the footage of David DePape busting out the glass in a veranda door to the Pelosi home, the San Francisco police body cam footage and listening to Paul Pelosi's 911 call one can't help but find the entirety of this tragedy as odd and terribly disturbing.
I can't pretend I know what Paul Pelosi was thinking during this dead of night encounter, but it appears to me he was simply trying to keep DePape from escalating. When you have a strange man break into your home and demand to speak with your wife, Nancy Pelosi, the third in line to the Presidency,  you need to have your wits about you. It appears he did.
And by doing so he was able to get the police to respond, he was able to reach the door unharmed when the police arrived but sadly he paid the price by clearly being attacked by DePape with a hammer.
First, watch and listen to these two short clips from the Pelosi surveillance system with DePape breaking out glass in French doors leading out to a veranda and Pelosi's 9/11 call –
And here is Paul Pelosi's 911 call. pic.twitter.com/IyHHfvPQcg

— Greg Price (@greg_price11) January 27, 2023
As initially reported by some news outlets there was questioning whether Paul Pelosi may have let David DePape into his home. Well, this surveillance video shows DePape clearly busting out those windows on the Pelosi's doors. Let's hope this video puts all of the surmising to rest.
As well, clearly, Pelosi was using some sort of code with the 9/11 operator when he says "Oh, was a gentleman here? Just waiting for my wife to come back. Nancy Pelosi, 223." What does he mean by "223"? He then sends a signal to the operator after asking if he needs help by saying  "I don't think so. … Is the Capitol Police around? They're usually here. They're usually here at the house. Protect my wife." As I shared above, after listening to the 9/11 call Paul Pelosi is clearly making an attempt to de escalate the situation and attempting to get help from the authorities.
Now, let's watch the San Francisco Police body cam footage –
Paul Pelosi and David DePape answer the door when the police arrive. You can see DePape holding Pelosi's arm/hand which is holding a hammer. The police say "drop the hammer" you can hear DePape say "nope." He then swings the hammer towards Pelosi with all of his might who then drops to the ground and by all appearances is knocked unconscious.
No matter what you think or believe about this tragedy the evidence is clear – an intruder broke into the Pelosi home and that intruder wielded a hammer at Paul Pelosi hard enough to render him unconscious…