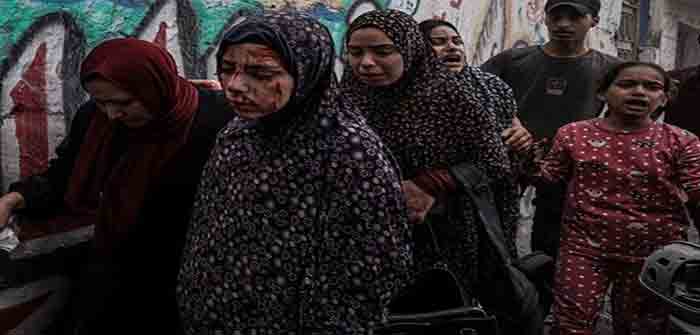 by Helen Tansey at The T-Room.us
__________
Zionists admit, effectively, that this is the continuation of the 1948 Nakba, ethnic cleansing of Palestine.
Hebrew media quoting Israeli security official:
"We are in a more difficult situation than the 1973 war, and the situation is very similar to the beginning of 1948."
___________
US Central Command confirmed in a conversation with NBC News that 24 military personnel were injured in attacks on US bases in Syria and Iraq last week.
Twenty soldiers were slightly injured in a drone strike against al-Tanf base in southern Syria on October 18, and another four were slightly wounded in two drone strikes against al-Assad base in western Iraq on the same day.
Earlier, the Pentagon reported that armed groups working in support of Iran carried out 13 attacks against US and coalition forces in the past week.
https://t.me/beholdisraelchannel/20750
___________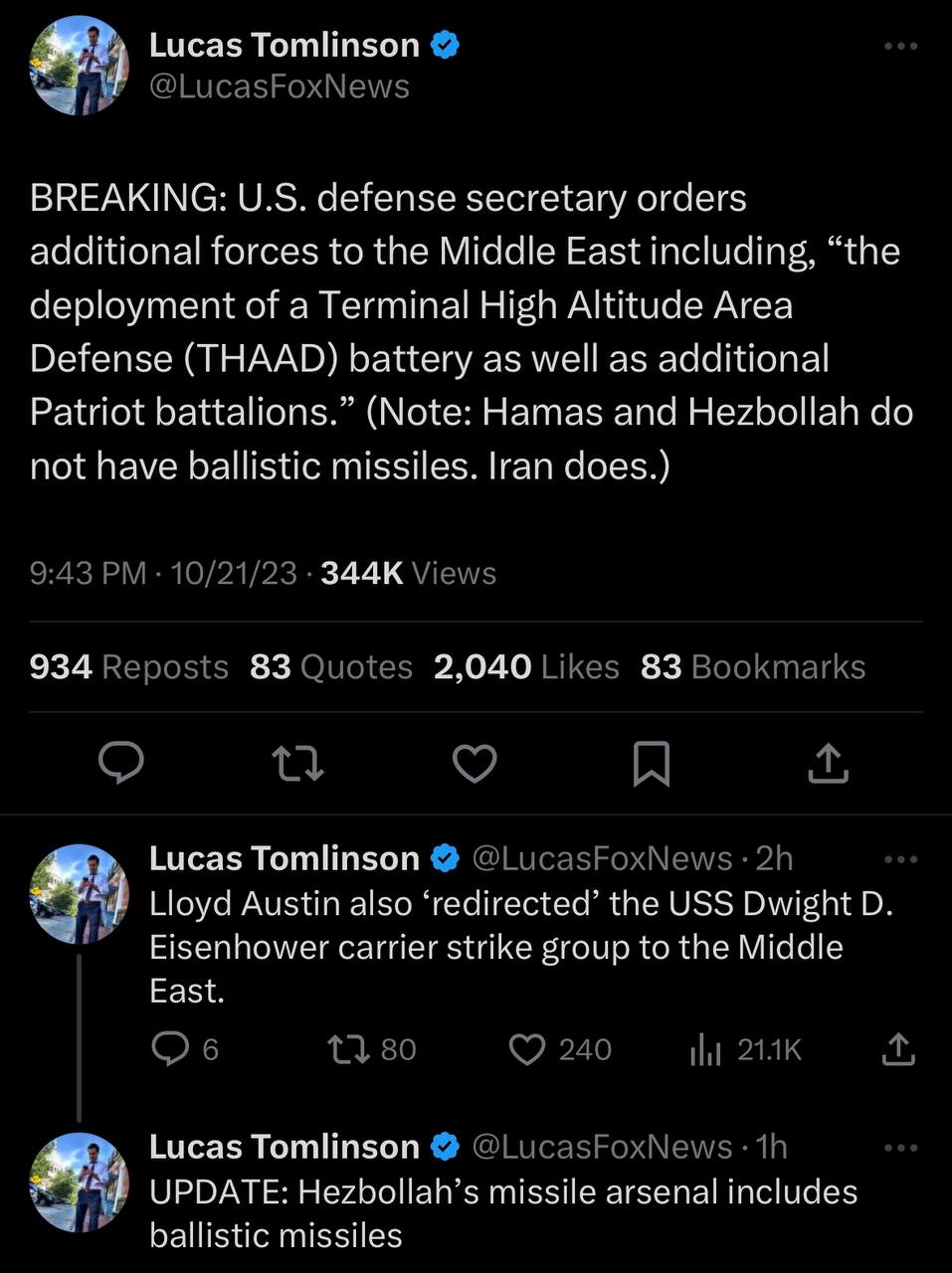 ___________
— // Iranian Foreign Minister: 'Today we announce with certainty that we have precise and accurate intelligence, which indicates that all aspects of Israel's war against Gaza are managed and supervised directly by the US military leadership and security apparatus'
__________
— //// 17th day of the war, October 23rd status update and major events:
– Heavy airstrikes on Gaza at night. Still a huge lack of food, water, medicine and electricity. Hospitals are expected to be out of power within 48 hrs.
– Sporadic rocket attacks by Hamas and PIJ took place on cities like Sderot, Ashkelon and others. Very small.
– Throughout the day, Hezbollah carried out at least 3 attacks with ATGMs against IDF targets in settlements near the Lebanese border. Today's activity on the northern front was significantly less intense than the previous days, possible even the least we have seen since the first few days of the war.
– The amount of officially announced Hezbollah martyrs has risen to 32.
– As a response to Hezbollah attacks, the IDF carried out artillery shellings, drone strikes and airstrikes on Hezbollah positions in Lebanon, but much less than previous days.
– The Islamic Resistance in Iraq carried out attacks on 5 U.S. occupation bases in Syria with suicide drones. They first struck Al-Tanf, Al-Rukban and Al-Malikiyah in the afternoon, and then Al-Omar oil field and Al-Shaddadi base in the evening.
– IRGC-affiliated planes started using Khmeimim airbase in Syria for the first time.
– Hamas released two elderly female prisoners for humanitarian reasons.
– Limited Israeli raids and incursions took place in the Gaza strip to the East of Al-Maghazi camp.
__________
— // NEW: The United States reportedly convinced Israel to delay a ground invasion of Gaza until additional US air defenses arrive in the region
'According to U.S. Defense Officials, the army is currently scrambling to deploy at least 12 air defense systems to multiple countries across the Middle East before an Israeli Invasion of the Gaza strip is set to begin.
A THAAD battery for use against ballistic missiles is currently on its way to Saudi Arabia from Fort Bliss, Texas, while at least 11 MIM-104 Patriot Surface-to-Air Missile Systems from Fort Liberty, North Carolina and Fort Sill, Oklahoma are heading to Locations in Kuwait, Jordan, Iraq, Saudi Arabia, Qatar and the United Arab Emirates.'
Source: Wall Street Journal
__________
The IOF abducted 125 Palestinians across the West Bank tonight, including 40 Gazan workers. The abductions focused on #Ramallah, #AlKhalil, and #Bethlehem.
The Prisoners' Club noted that 1,215 Palestinians have been arrested since the start of Al-Aqsa Flood, out of a total of 6,500 arrests since the beginning of the year.
They stated, "The occupation forces adopted a policy of threats, severe beatings against the detainees and their families, and the destruction of citizens' homes during these arrest operations."
https://t.me/VanessaBeeley/19221
__________
The United States is increasingly drawn into the current conflict in the Middle East. According to the Pentagon, a THAAD battery and additional Patriot systems will be deployed in the region.
In addition, Washington is preparing to deploy additional American troops for a "quick response if necessary."
Objectively, such American maneuvers are designed not so much to "defend Israel" as to strengthen their own positions in the Middle East. However, the Pentagon does not hide this.
__________
Report: Israel has decided to "postpone the ground war" in the Gaza Strip until US military reinforcements arrive in the area.
It's obvious that If Hezbollah attacks there will be automatically an all-out war in the Middle East.
Right move, Israel needs the US to defeat Iran and its proxies in Iraq, Syria and Yemen.
https://t.me/beholdisraelchannel/20568
___________
I find this extraordinarily weird. You? Reports are these Israeli ads are everywhere. Why on earth would Israel be putting ads anywhere? Macabre comes to mind.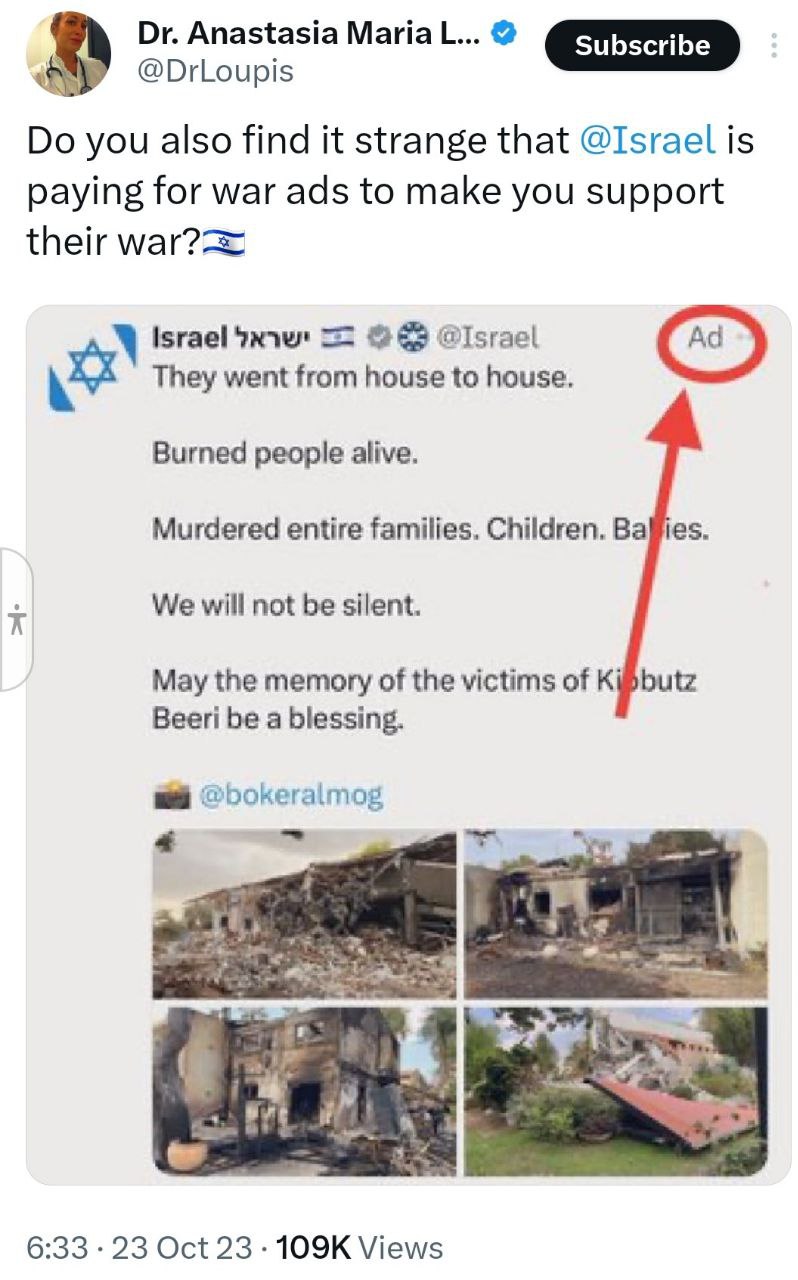 Israel defense minister Gallant: This is a campaign of three stages.
We are in the first stage, in which a military operation is taking place with fire and later in a maneuver whose purpose is to destroy activists and damage infrastructure in order to neutralize and destroy Hamas.'
"The second stage will be an intermediate stage of continuing the fighting at a lower intensity and eliminating pockets of resistance."
"The third step will be the creation of a new security regime in the Gaza Strip, the removal of Israel's responsibility for life in the Gaza Strip and the creation of a new security reality for the citizens of Israel and the residents of the surrounding area."
https://t.me/beholdisraelchannel/20313
_________
Hezbollah Deputy to the Secretary General Sheikh Naim Qassem
The occupation is waging a systematic war of annihilation and destruction targeting civilians, including children, women, and the elderly in Gaza.
Hezbollah is committed to keeping pace and confronting as part of its vision to serve the victory of resistance, the liberation of Palestine and al-Quds, and what serves our nation.
Today, we are in the heart of the battle and achieving accomplishments. There are 3 Israeli brigades facing Hezbollah, while there are 5 brigades facing Gaza.
As events continue to unfold and necessitate our increased involvement, we will do so.
What we are doing in the south now is a stage that aligns with the confrontation. If the situation demands more, we will do more, and the enemy is perplexed.
If the enemy further intervenes, matters will expand, and we say to those who contact us that they must stop the aggression first to prevent the conflict from escalating.
We are not compelled to clarify our plan, and the enemy should suffice with the defeat they have suffered, or else they will face an even greater defeat with no hope for victory.
The Israeli ground incursion into Gaza will be a graveyard for the enemy, and there is nothing ahead of them but defeat, while there is nothing ahead of us but victory.
https://t.me/VanessaBeeley/19125
__________
A horrible night. The Zionists bombed for hours without interruption, deliberately targeting residential areas.
There are more than 400 martyrs, the majority of them children.
A massacre while the world looks the other way with the active complicity of almost all Arab states.
Nouvelles de Palestine
https://t.me/VanessaBeeley/19167
__________
Assessment of the Zionist aggression against the Gaza Strip on the 17th day:
➡️ Martyrs
5087, of which
2055 children,
1119 women,
217 elderly people.
➡️ Missing people
1500 reported, including
830 children.
➡️ Displaced people
1.4 million (70% population)
➡️ Building damage
181,000 homes, including 20,000 completely destroyed.
➡️ Administration – school
72 administrative seats
177 schools, including
32 completely destroyed.
➡️ Places of worship
32 mosques destroyed
3 churches damaged.
[Source: Palestinian Government Media Office in Gaza, October 22, 2023.]
___________
The Chinese Ministry of Defense has officially confirmed the presence of six warships in the Middle East.
The task force consists of a guided-missile destroyer, a frigate and an integrated supply ship that showcases China's military presence in the Middle East.
https://t.me/beholdisraelchannel/20566
__________
⚡️The US Army is ready to act if new participants appear in the conflict between Israel and Hamas, Pentagon chief Lloyd Austin said on Sunday.
"If any country or group seeks to expand this conflict (…), then my advice is not to try to do so," he said on ABC News.
"We have the right to defend ourselves, and we will not hesitate to do so if necessary," he said.
__________
Former Bolivian President Evo Morales, who is now trying to return to the presidency, called for Israel to be declared a terrorist state and to sever diplomatic relations with it due to Israel's acts of genocide against civilians. Morales called Western countries supporting Israel accomplices of genocide.
___________
The destruction of terror targets in Gaza continues around the clock.
The IDF attacked over 320 targets throughout the Gaza Strip in the past 24 hours.
https://t.me/beholdisraelchannel/20562
___________
⚡️Egypt has proposed creating camps for refugees from the Gaza Strip in the Palestinian town of Rafah – Al Araby Al Jadeed newspaper
__________
[ Album ]
⚡️ Something that I forgot to report on the 19th of October, but Russian Aid has arrived in Al-Arish, and most likely, is already on the border of Gaza in Rafah.
This specific flight carried over 27 tons of aid, more is to be expected.
__________
Germany's counter-terrorism and special operations unit GSG 9 landed in Cyprus.
They were stationed in Cyprus along with the American, Italian, Dutch and British special forces.
(Abu Saleh)
https://t.me/beholdisraelchannel/20564
__________
Russian "anti-war relocants" take note.
"We are now in a state of war. We have no tolerance for anti-war protesters , whether they are nurses, doctors, singers , it doesn't matter. They have no right to protest. "
The head of the Israeli police said that everyone who opposes the war and from a humanistic position in relation to the Gaza Strip will face the "iron fist" of Israeli law enforcement.
__________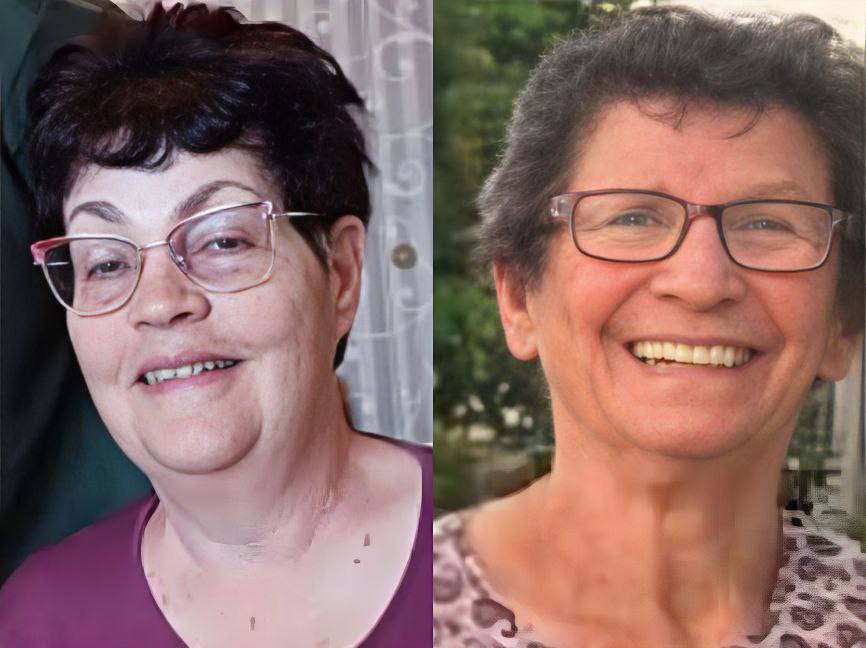 We in the Al-Qassam Brigades, through Egyptian-Qatari mediation, released the two detainees, Nurit Yitzhak and Yochved Lifshitz, knowing that the Zionist enemy has refused since last Friday to receive them, and is still neglecting the file of its prisoners.
We decided to release them for compelling humanitarian and satisfactory reasons despite the occupation committing more than 8 violations of the procedures that were agreed upon with the mediator brothers that the occupation should have adhered to during this day to complete the handover process.
#AqsaFlood ❤️✌
__________
The spokesman for the military wing of Hamas, Abu Abeida, informs that two more female prisoners were released to the Red Cross for "humanitarian reasons".
According to publications, the elderly abductees Nurit Yitzhak and Yochaved Lifshitz were released
The Israeli abductees arrived at the Rafah crossing.
After 17 days in captivity: The two abductees who were released a short time ago are Yochaved Lifshitz, 80, (right) and Nurit Cooper, 85, from Kibbutz Nir Oz, without foreign citizenship
Both released women are founders of Nir Oz [Kibbutz}, their husbands remain in captivity!
https://t.me/beholdisraelchannel/20618
__________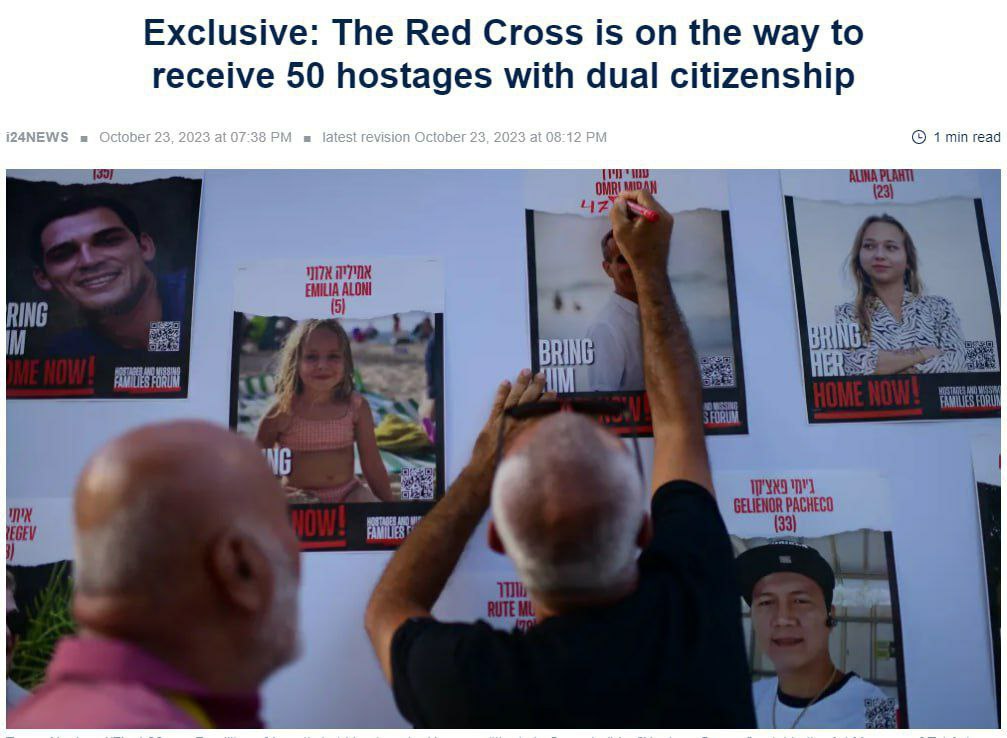 Hamas is preparing to hand over 50 hostages to the Red Cross. During the negotiations and transfer, the IDF suspended strikes on the Gaza Strip. The transfer must take place in Khan Yunis. Possible option of exchanging hostages for fuel
___________
— / Iranian President, Ibrahim Raesi: The United Nations Security Council is useless, there is no more hope for the UNSC to play a role in keeping international peace
___________
— // NEW: After the Aleppo and Damascus airports were put out of service by Israeli airstrikes, Iranian and IRGC-affiliated cargo planes have started using the Russian 'Khmeimim' airbase for the first time
— // Islamic Resistance in Iraq: We targeted the Al-Tanf and Al-Rukban military bases in Syria with two suicide drones
— / BREAKING: Al-Shaddadi base in Syria has also come under fire
Three seperate U.S. bases being targeted right now.
— / At this moment, 3 seperate U.S. bases are under attack in Syria
Heavy explosions reported.
__________
Follow-up comment by A. Dane on an Israeli JDAM hit the courtyard at Al Ahli Baptist Hospital over at Son of the New American Revolution: