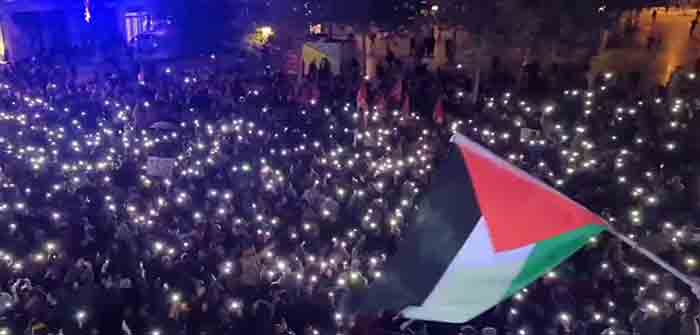 by Helen Tansey at T-Room.us
I read a ton of shit all day long. Seriously, I do. In order for me to post the closest articles I can find to truth and factually based, believe it or not, takes a ton of work. That said, because I read a ton of shit everyday, there are lots of nuggets of information that help fill-in the picture on any given story. Those nuggets of information tend to be found in social media. Since I'm reading them, and they are of help to me to better understand stories of this magnitude – Israeli – Gaza WAR – I am sharing them with you for the duration. Feel free to let me know what you think. T-Room readers know how to find my email. Drop me a line. Hoping this format, which I will continue to hone, works for you. Suggestions are always, always welcome…
__________
The US Department of State issues a global warning due to "increased tensions in various locations around the world, the potential for terrorist attacks, demonstrations or acts of violence against American citizens and interests"
https://t.me/beholdisraelchannel/20191
__________
American planes loaded with soldiers and equipment landed at al-Assad bases in Iraq and al-Tanf in Syria.​​​​
The US understands that there is going to be a ground campaign in various areas of the Middle East. The US embassy in Baghdad could be in danger and some of the Iraqi militias have already spoken out on the subject.
From the Al Tanaf base, the US military will be able to respond in eastern Syria against Iranian targets.
https://t.me/beholdisraelchannel/20196
__________
Update on Israeli Hostages Held by Hamas in Gaza
The IDF publishes new data on the abducted and missing:
The IDF allows the publication that out of about 200 abductees for whom there is information about their presence in the territory of the Gaza Strip –
A couple dozen (less than 30) are children up to the age of 18.
About 10-20 of them are elderly people aged 60+.
Most of the abductees are alive, but there are also bodies that were abducted to Gaza.
In addition, there are another 100-200 Israelis who are defined as missing, and there is no information on their whereabouts. This is compared to about 3,000 people who were declared missing on the first day of the war, and since then their number has been greatly reduced when certain information about their whereabouts has arrived (they were found alive, found dead, or known to have been kidnapped).
The IDF emphasizes that there are quite a few complexities that make it difficult to locate information regarding the missing. Among other things, many bodies that are in Shura camp have not yet been identified, bodies that have not yet been collected from the area, and the army is still conducting ground raids in the area of ​​the fence with the aim of collecting more bodies.
The IDF emphasizes that they adhere to the principle of complete transparency with the families, and pass on to them any information they have about their loved ones. There are many teams that are in daily contact with the families of the abductees, but teams have not yet arrived for all the families of the missing, and there is an effort to do so in the next day.
https://t.me/beholdisraelchannel/20198
__________
The Houthis in Yemen take responsibility for firing a barrage of missiles and drones towards Israeli territory
As mentioned, most of them were intercepted by an American warship (The T-Room here: The USS Carney in the Gulf of Aden intercepted the missiles from Yemen – no reported injuries – Saudi Arabia also intercepted a missile from Yemen)
https://t.me/beholdisraelchannel/20232
__________
Egyptian President Al-Sisi:
"If there is a plan to displace Gazans, I suggest moving all civilians from Gaza to the desert in Israel, until the end of the Israeli army operation [to dismantle and destroy Hamas and PIJ]."
__________
— List of countries that have asked their citizens to immediately leave Lebanon:
– Germany
– Saudi Arabia
– Canada
– United States
– United Kingdom
– Australia
__________
— NEW: Earlier today, Kann announced that Israel is evacuating its embassies in Bahrain, Jordan, Morocco, Egypt and Turkey
__________
"The deaths of women and children in Gaza are the fault of Hamas, not Israel, just like the deaths in Japan during World War 2 were the fault of Japan, not America. When a government engages in unprovoked, murderous aggression, they are to blame for everything that results." – https://t.me/CharlieKirk/12500
Let's take this statement and turn it around – The deaths of women and children in the Donbas are the fault of Russia, not Ukraine, just like the deaths in Germany during WW 2 were the fault of Germany, not Russia or America.
That's like saying all of the cities centers attacked during the BLM riots was the fault of those cities.
I can't speak for you but I didn't support war in Afghanistan, Iraq, Libya, Somalia just to name a few and I'm damned sure not going to be blamed for those decisions when I didn't have a seat at the table! And I  damned sure had no say whatsoever in the BLM riots.
Nonsense.
__________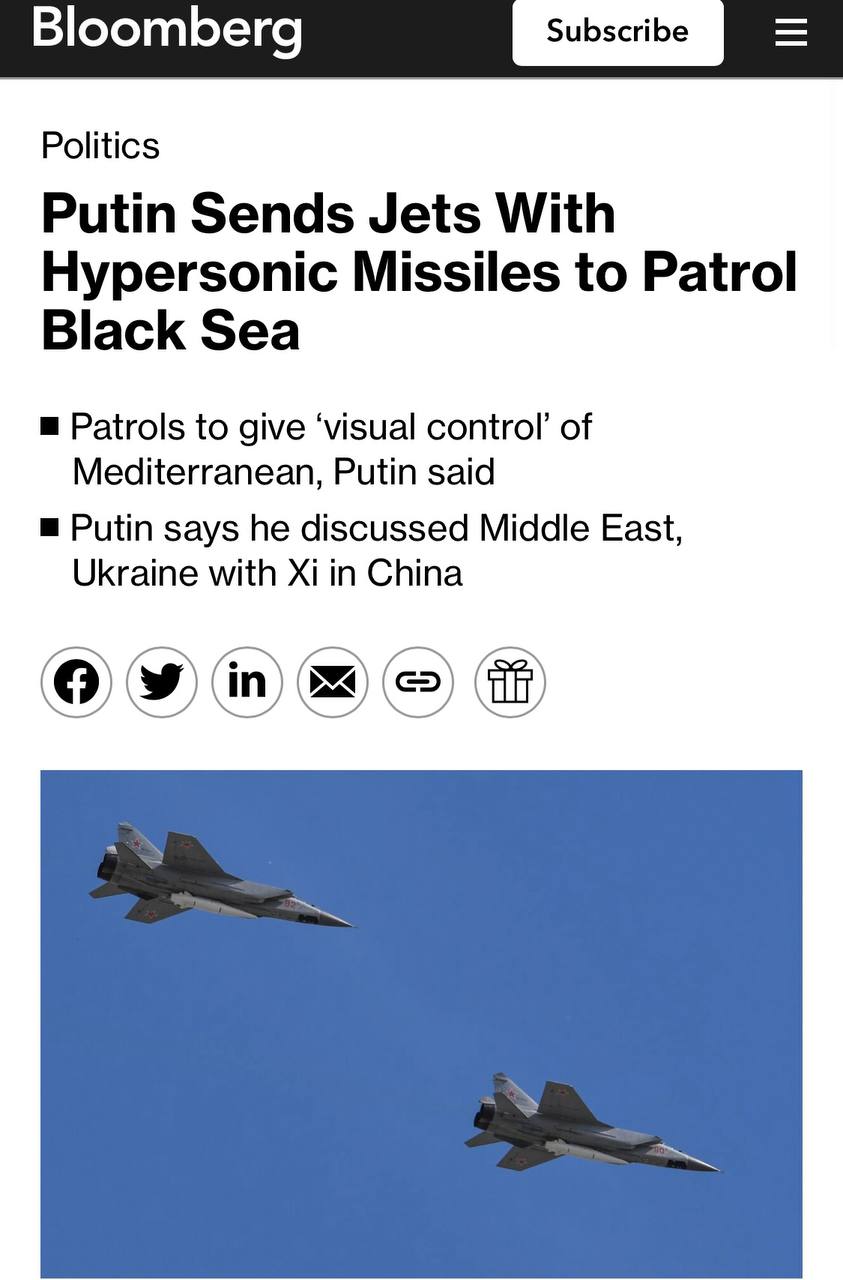 Russian President Vladimir Putin said he's ordered fighter jets armed with hypersonic missiles to begin round-the-clock patrols over the Black Sea, ratcheting up tensions with the US amid the war in Ukraine and the spiraling crisis in the Middle East between Israel and Hamas.
"This is not a threat, but we will exercise visual control — control with weapons — over what is happening in the Mediterranean Sea," Putin said. The US has moved two aviation groups into the Mediterranean in response to the Israel-Hamas war, and its recent delivery of ATACMS long-range missiles to Ukraine showed Washington was getting more deeply involved in the conflict there, he said.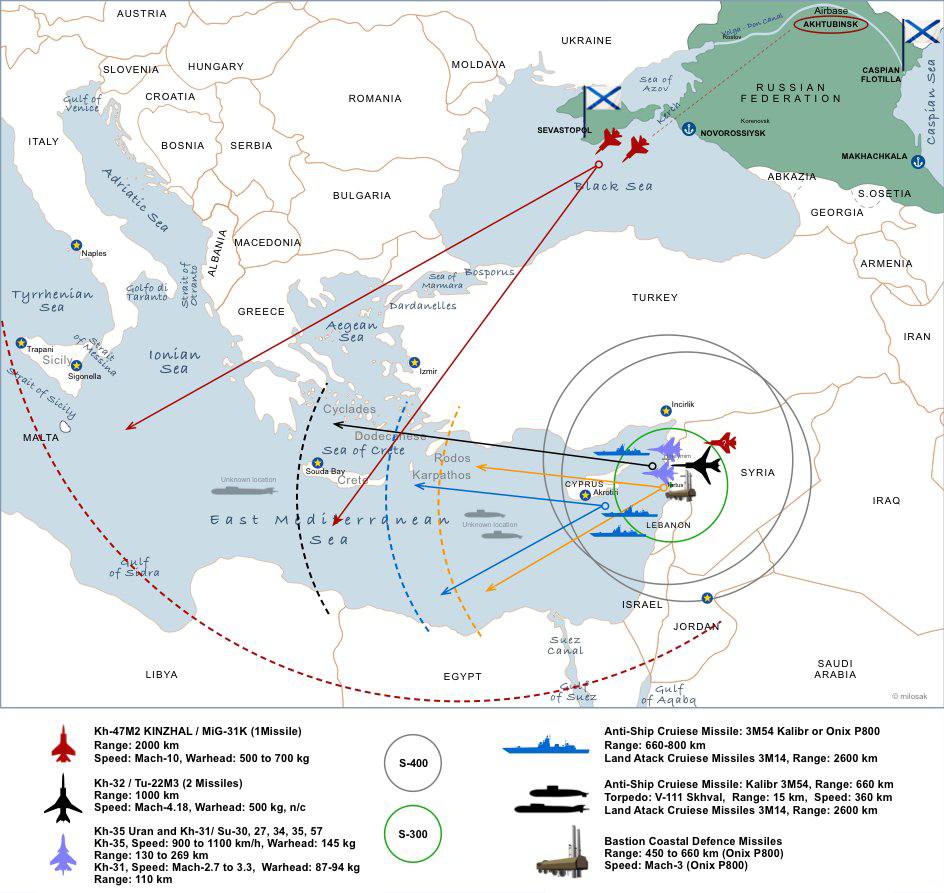 ____________
The U.S. military thwarted an attack targeting its forces in Iraq early on Wednesday, intercepting two drones before they could strike, two U.S. officials said after the first such attack on U.S. forces in Iraq in more than a year.
The officials, who spoke to Reuters on condition of anonymity, declined to say who was suspected of the attack but Washington is on heightened alert for activity by Iran-backed groups amid soaring tension in the region over the Israel-Hamas war.
__________
THIS IS A GAME CHANGER –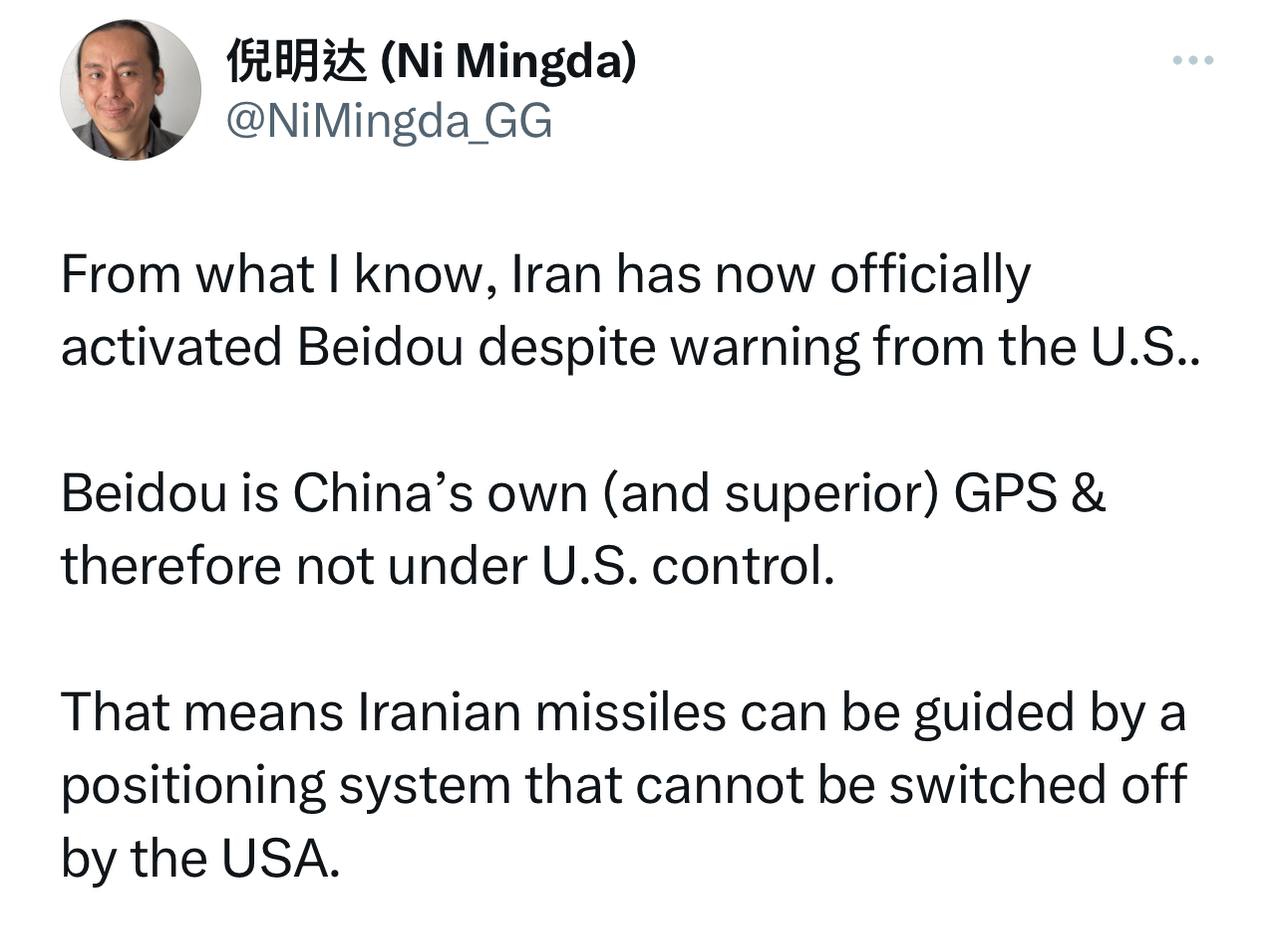 ____________
— Iranian Foreign Minister: We call on a total oil and gas embargo by the Islamic countries against nations that support Israel
__________
⚡️471 people were killed in the attack on Al-Ahly hospital in the Gaza Strip – Palestinian Ministry of Health
__________
◾We call it something else: unfolding genocide:
– As Jews, we condemn what Israel is doing in Gaza. Any mass slaughter will not just be on Israel's hands, but on the hands of America.
◾There is no other word to describe the pageantry of death embraced by Israel's politicians. Under international law, genocide requires two things: an "intent to destroy, in whole or in part, a national, ethnical, racial or religious group," and then the attempted destruction of that group. Without intent, these actions amount to ethnic cleansing. If deliberate, they are considered genocide.
◾It is now impossible for US politicians to ignore the slaughter in Gaza: more than 3,500 Palestinians have been killed in the 12-day barrage, including the 500 reportedly killed Tuesday at Al-Ahli Arabi Baptist hospital. Some 50 entire families have been wiped out.
__________
⚡For the first time since the 1982 Lebanon War, the entire IDF armored corps was called up for military service. This is more than 1000 Merkava battle tanks.
__________
The US Navy amphibious landing group, led by the USS Bataan (Wasp-class) with F-35B Lightning II fighters and 2,000 Marines on board, is sent to the shores of Israel.
__________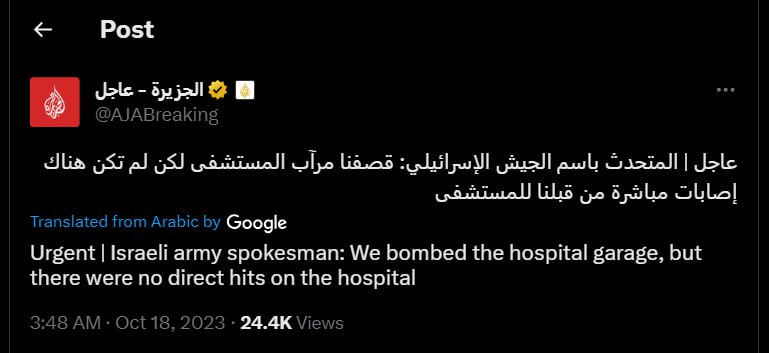 #BREAKING
❌❗️ — Israeli army spokesman to Al-Jazeera: We bombed the hospital garage, but there were no direct hits on the hospital
https://archive.is/wip/e5EaR
الجزيرة – عاجل (@AJABreaking) (https://twitter.com/i/status/1714533965975966155)
__________
❗Israel evacuated its diplomatic missions from Morocco and Egypt – Yedioth Ahronoth newspaper
__________
If true, they will be joined by American Special Forces – ⚡️Germany deployed special forces to Cyprus to enable an operation to free hostages from the Gaza Strip – Bild
__________
⚡️Palestinian Health Ministry: "The Israeli occupation has so far warned 24 hospitals to evacuate in Gaza, including Al-Shifa Hospital"
https://t.me/warmonitors/16442
__________
Not just interceptors: the Biden administration intends to send two Iron Dome systems to Israel
https://t.me/beholdisraelchannel/20184
__________